4 Tips to Draw a Big Crowd at Your Trade Show Exhibit
Trade shows and events are one of the most significant opportunities to sell your product and brand, but with hundreds of other exhibits vying for attention, how do you ensure that yours stands out? Exhibiting at a trade show is a financial investment for any company and we want your investments worthwhile. There's nothing like a packed exhibit space that will leave attendees talking about your brand days later. 
We've broke down some key basics that guarantee attracting more attendees to your booth!
1. Create an Eye-Catching and Attractive Booth
New and experienced trade show attendees scan the floor, looking for exhibits that stand out. If your booth looks like every other exhibitor's, it will be challenging to attract crowd attention. Regardless of the size of your exhibit space, teaming up with a design team will help capitalize on modern design trends and create a memorable experience for your brand. Using bold color patterns, large graphics, lighting, and unique shapes are all features that will help you stand out.
If you are launching a product, consider using an interactive product display to show it off. Product displays are an effective way to catch the eye of potential customers and get them interested in your product.
2. Use Social Media To Promote Your Offer
With the world engulfed in social media platforms, take advantage of free technological resources to expand your brand's reach. Leading up to event day, frequently broadcast your upcoming event, so viewers can expect your appearance and know to look for your exhibit. You can also run a social media contest. The prize could be a free product, a discount, or something else that would be of value to your target customer. Make sure to promote your offer on your website and in your email signature. 
Live social media stories during the trade show, especially ones that include attendees in your space, is a great way to influence others to check out your brand and promote your trade show offers. Make sure to include event hashtag in your posts so potential customers can find you.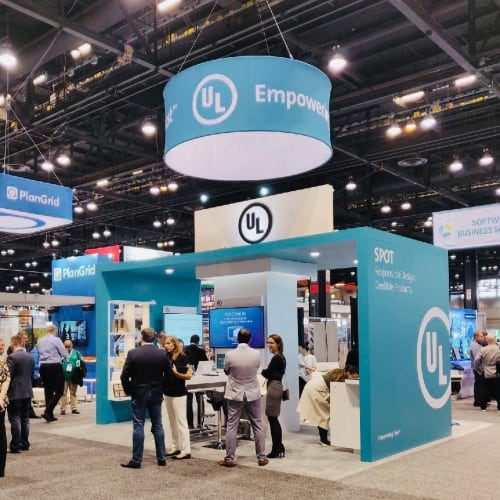 3. Give Away Freebies To Draw People in
Freebie marketing is a tried-and-true marketing strategy that you can use to draw attention to your booth. People love freebies, so giving away branded items such as pens, notepads, keychains, or water bottles can easily get people interested in your company and products.
You can also offer free samples of your products or services if you think that would be more effective in attracting attention to your booth.
If your product is interactive or you offer a service, consider giving a demonstration at your booth. It will help educate potential customers about what you do and give them a chance to see your product or service in action.
Dimensional Design offers custom trade show booths for businesses of all sizes. Our expert team will help you design and build the perfect booth to showcase your products, services, and brand. Based in Atlanta, GA, we've been in the exhibit industry for over 20 years and have helped countless businesses attract attention and grow their trade show presence.