Trade Show Booth Rental Vs. Buying
Exhibiting at a trade show can be a great opportunity to expand your bottom line and expand your brand reach. Overall there are two approaches to consider upfront with your booth design and process. You can invest in buying your trade show booth or you can rent one. In this article, we'll talk about the different benefits of these two approaches. That way, you can select the best outcome for you. 
Buying a trade show booth gives the purchaser complete control and ownership over the booth's design and appearance, allowing for customization and reuse at future events. However, it also requires a larger upfront investment and requires the company to handle storage, maintenance, and transportation of the booth. Renting a trade show booth is a more flexible and cost-effective option for companies that participate in only occasional events, as rental fees typically include setup, takedown, and transportation. However, it limits customization and often has restrictions on booth alterations. Dimensional Design offers both buying and renting options for trade show booths.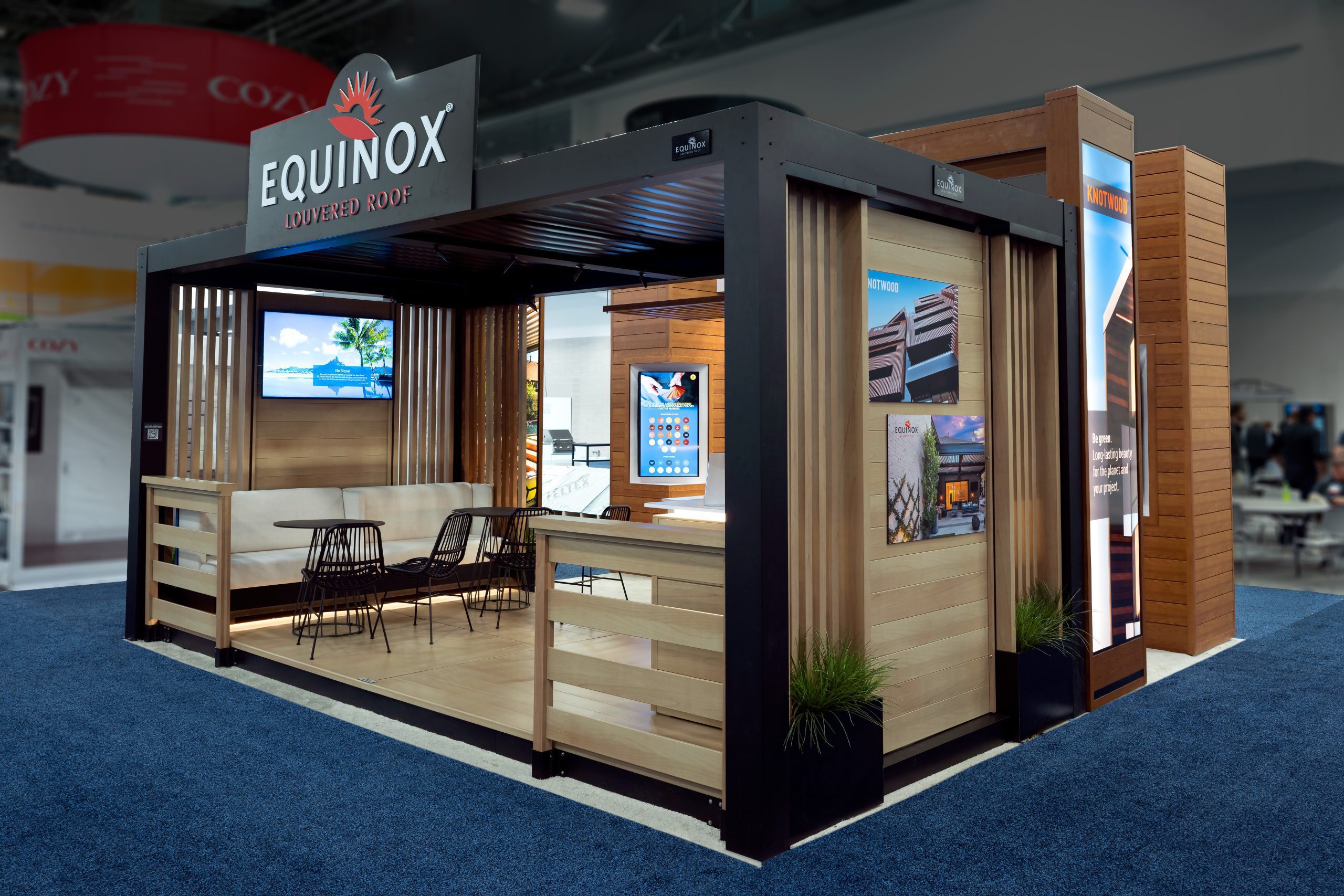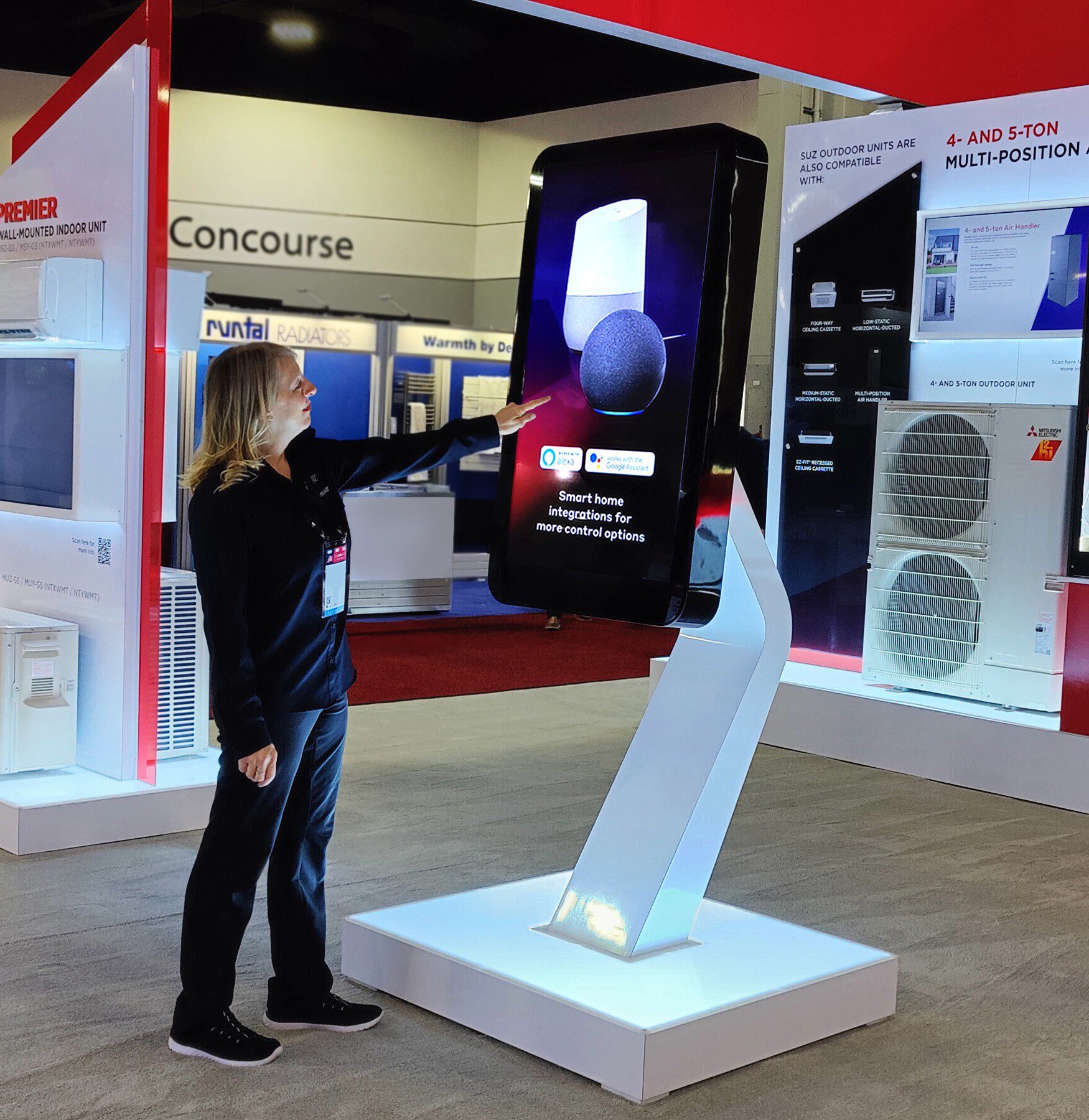 Renting Vs. Buying Trade Show Booths
Let's answer this question right now by looking at each type individually:
Rentals mean that you're not going to actually own the trade show booth. 
Renting a trade show booth is a more flexible and cost-effective option for companies that participate in only occasional events, expect a different booth size per show, or plan to refresh their marketing frequently. 
Rather than having to design your booth completely from scratch, design and production labor fees are significantly less. 
Because your booth is a rental, you will not have to pay for storage fees afterwards. Even renting just furniture, or electronics can be a great option for storage saving. 
On the other hand, rentals limit customization and often have restrictions on booth alterations, but Dimensional Design offers a modular inventory of trade show booth components that can easily be customized with your branded content. 
When you buy custom trade show booths, you can have a custom design to meet every need that you might have. It means you can have 100% flexibility to tie the booth design with your company theme and mission. 
The enhanced aesthetics of your purchased trade show booth means it will be unique to your brand. It also means it's more likely to stand out in a sea of other competitors at the event.
The benefit of purchasing your booth is the option to utilize it for as many shows as you choose. Even if you are wanting to freshen up your marketing content, elements of the booth can be replaced without rebuilding the entire booth or renting a whole new one. 
By collaborating with a professional trade booth exhibition design company, you can effectively modernize your tradeshow exhibit, ensuring that the lights, colors, shapes, and various other elements of your booth align precisely with your desired vision. 
Sure, there's a slightly higher initial expense, but you'll have complete flexibility for when you take delivery of your exhibition. And you can have faith that the booth design will be modern.
Take Your Trade Show Exhibit To The Next Level
If you need help brainstorming your marketing strategy, design, or booth construction, look no further than Dimensional Design.
Whether you are looking to rent or buy a trade show booth, Dimensional Design  can help you create an experience that meets your needs while wowing your customers. Ultimately that results in you bringing in more foot traffic, more marketing attention, and more orders for your product or service.